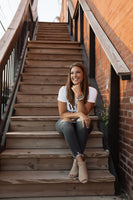 Who and What is Sofia Rae
Hi! I'm Erin, creative mastermind behind Sofia Rae.....I started this adventure when my youngest was born and it has continued to grow and evolve throughout the years!
I am most known for my "team gear" but create many other goodies in between 😉
I appreciate you being here more than you know.....each and every customer holds a special place in my heart!
Much love!!
Erin Rae